We are a spiritual home for all generations, engaged in the mission of God's love in the world.
– Parish Mission Statement
We are a diverse congregation of people seeking to know God more fully through worship and fellowship, and to share God's love with our neighbors. Some of us have lived here all of our lives. Some have come recently to work or retire. Some of us work in the oceans, on the properties, at the schools and libraries, at Jackson Laboratory or College of the Atlantic, or in the local shops and restaurants. Some of us are here for only part of the year and have been coming here for years or even generations. Some of us come from as far away as England or California. All of us are grateful to be here to enjoy community worship, shared mission, and the spiritual riches of Mount Desert Island.  Our size and composition fluctuates significantly with the season, as does the overall population of Northeast Harbor, Seal Harbor, and all of Mount Desert Island.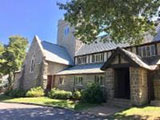 St. Mary's By-The-Sea
Worship at 8:00 a.m. & 10:00 a.m.
The Rev. Stephen D. Muncie
The Rev. Dr, William Hague
Kimberly Haller
Parish Organist
Kerry Kenney
Parish Administrator
Patricia Shellnutt
Financial Administrator
Lauri Fernald
Senior Warden
Mark Middleton
Junior Warden
Vestry Members:
Margaret Costan
Karol Hagberg
Jacquelyn Lowe
Maude March
Nancy McCormick
Elizabeth McMullen
Anne Ogilby
William Peelle
Diocesan Convention Delegates:
Maude March
Elizabeth McMullan
Sydney Roberts Rockefeller