Worship at St. Mary & St. Jude
Worship is central to who we are as followers of Jesus.  We celebrate our commitment to follow his way of love in the world as we gather to hear Scripture, to pray, and to break bread together.
Our 8:00 am service at St. Mary's by-the-Sea is a quiet, reflective gathering without music.
Our 10:00 am service at both St. Mary's by-the-Sea and St. Jude's includes music and, on occasion, special musicians.  Coffee Hour or Lemonade on the Lawn follows worship.
In the summer months, the Northeast Harbor community is invited to gather at 5:45 pm for the beautiful Sunset Service at Rosserne.  This long-standing tradition is open to all and begins on July 11, 2021.
Safe Gathering Guidelines
We ask all those who are interested in joining us in person to honor the guidelines established by the Diocese of Maine and our Mount Desert Island Episcopal Partnership Covid-19 Task Force.
These guidelines require masks to be worn by all who worship indoors.  This is a commitment to the health and safety of children, the immunocompromised, and others who have not yet been vaccinated.  There is no need at this time to pre-register for worship.  Coffee Hour and Lemonade on the Lawn will be held outdoors.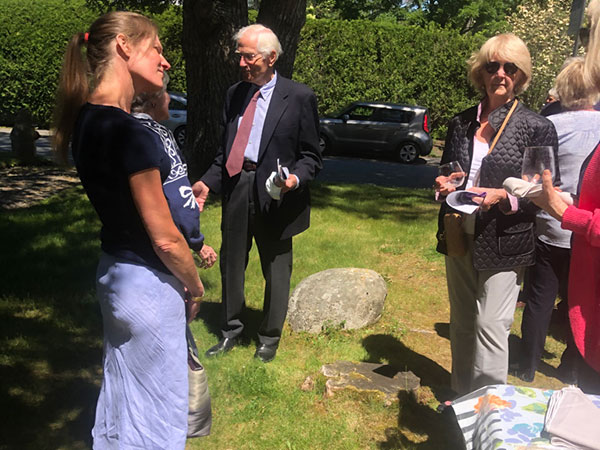 Music Ministry
Our parish is blessed to have a small but growing group of musicians who praise God and nourish spirits through song.  Both St. Mary's by-the-Sea and St. Jude's have active choirs during most summers.  We always encourage both year-round and seasonal singers to experience the special bond developing within our choirs.
Community involvement is an important facet of our music ministry, as witnessed through our online recorded services, guest musicians and ensembles, and numerous concerts and special church services throughout the year.  We welcome worshippers of all levels to join us as we "speak to one another in psalms and hymns and spiritual songs, singing and making melody with your heart to the Lord" (Ephesians 5:19).
Baptism
"You are sealed by the Holy Spirit in Baptism and marked as Christ's own for ever."
Holy Baptism is full initiation by water and the Holy Spirit into Christ's Body, the Church.  It is a public statement of one's decision to follow Jesus and his way of love in the world.  It publicly proclaims what is already true – we are loved by God for ever.
Baptism is open to all people, regardless of age or background.
In the case of infant baptism, parents promise to raise a child in the Christian faith.
The bond which God establishes in baptism cannot be broken, so baptism is administered only once.  When you choose to be baptized, or to have your child baptized, it means you are choosing to live out the Baptismal Covenant, taking your part in the mission, ministries, and worship of the local parish.
Baptism is the beginning, not the end, of a spiritual path.  It is not necessary for a candidate for baptism to fully understand every aspect of Christian faith and life from the beginning but, instead, is willing to take first steps on the spiritual road that leads ever deeper into the way, truth, and life of Jesus Christ.
It is our custom to come together for public baptism on special days in the church year, the Feast of the Baptism of Our Lord, Easter Eve, Day of Pentecost, and All Saints' Sunday.  However, arrangements may be made with the clergy for baptisms on other days.
Please contact the Parish Office at 207.276.5588 or [email protected], to receive a Baptismal Registration Form.
Weddings
"I give you this ring as a symbol of my vow, and with all that I am and all that I have, I honor you."
Holy Matrimony is a sacramental rite of The Episcopal Church.  A wedding is a joyful occasion that celebrates two people making a lifelong commitment to one another.
The Parish of St. Mary & St. Jude offers this rite and opens its sacred spaces to church members, their children or grandchildren, and those who seek to make this parish their spiritual home.
The Episcopal Church requires that at least one of the couple be a baptized Christian and that two witnesses attest to the marriage ceremony. Premarital counseling is also required. Gay and lesbian couples are welcome to be married in The Episcopal Church.  In addition to clergy approval, the parish requires the ceremony date be scheduled at least three months in advance.
For further information please contact the Parish Office: 207.276.5588 or [email protected]
Funerals and Memorial Services
"I am Resurrection and I am Life, says the Lord."
The loss of a loved one provides us with not only an opportunity to celebrate the lives of those close to us, but also to come together for consolation and comfort.
When a person is near death it is appropriate to notify the church so that a priest can provide the prayers and ministrations of the church.
We work closely with our members to ensure that end-of-life issues are addressed with pastoral concern and respect. To find out more about funerals, funeral and memorial service planning, and burial contact the Parish Office: 207.276.5588 or [email protected]